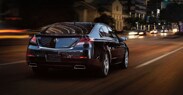 Acura is driven by a passion to meld craftsmanship and performance in ways that deliver a driving experience beyond compare. The result is in your hands: An extraordinary lineup of vehicles, each one created with a craftsman's attention to detail, each one making a bold statement about what the word performance can mean. So ask your self where your own passion lie. Because with the incentives that are in place, now is the time to consider - and indulge.
Where dreams take shape, desires are fullfilled.
It begins in the minds of Acura's engineers: innovative ideas that become technological leaps. Like the new 2014 RLX's AWD system that actively distributes torque between the rear wheels, resulting in cornering ability that's nothing less than remarkable. Or look at the engine-intake-manifold technology - its elegant design takes advantage of the natural dynamics of air to maximize power output at all engine speeds.
Every Acura vehicle showcases technology born in imagination. Imagine your own performance ideal: Is it sport utility? A race-bred instrument of velocity? Perhaps a high-power, all-wheel-drive revelation? Wherever your dreams take you, an Acura will exceed your highest expectations, and fill your driving desires.