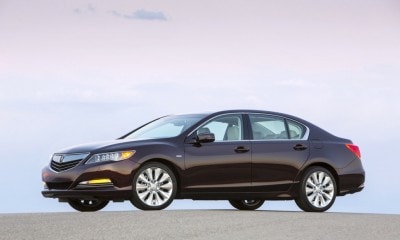 Road Test Reviews

2014 Acura RLX Sport Hybrid
When it comes to high tech with high luxury, Acura's new RLX flagship certainly doesn't come up short. Where the RLX lags is in driving enjoyment. Well that just might change with the Acura RLX Sport Hybrid. It not only takes Acura's Super Handling All-Wheel-Drive concept to the next level; it's more efficient too. We call it: cake eaten!
The 2014 Acura RLX Sport Hybrid may look for the most part like a regular RLX luxury sedan. But underneath it couldn't be more different.
The direct injection 310-horsepower 3.5-liter V6 under the hood is the same in principal, but it does get some updates including a tweaking of the camshaft valve timing.
Attached to it is perhaps the best part of all; a new 7-speed DCT transmission with a 35kW electric motor built into it, boosting power output to 377-horsepower and 377 lb-ft. of torque.
But wait there's more. Two additional 27kW electric motors are mounted in the rear of the vehicle, each providing power to one of the rear wheels. For those keeping score, that's 4 power sources and 3 of them are electric!
And, it all works together fairly seamlessly, as mechanical and electrical power is constantly being distributed to different wheels in different amounts at all times.
As you might guess this should also benefit handling, as we found out on the great roads just north of San Francisco the moment we turned into the first corner. With Acura's Super-Handling All-Wheel-Drive, power is automatically biased to the outer wheels to help you scoot around the corner with less understeer.
Where the new Sport Hybrid system also shines is that regardless of your throttle inputs, the electric motors will not only add more power to the outside wheel, but will regen brake the inside rear for even more rotation.
As driving enthusiast we are happy to say that Sport Hybrid model is exactly what the RLX needed to catch and keep our interest. It adds a "sport" moniker to an already notable luxury sedan.
Plus, much like a traditional hybrid, the Sport Hybrid can run on EV power alone up to 50 miles-per-hour or with any combination of engine and battery power depending on throttle inputs.
The regenerative braking is also very smooth and pedal feel is amazingly neutral. The accelerator pedal also gets some attention for a more progressive touch. Give it your full attention and you'll quickly see the improved acceleration of the Sport Hybrid. Factory 0-60 time is 5 seconds flat.
The only real hybrid compromise is a 20% reduction in trunk space due to the 1.3kWh lithium-ion battery pack behind the rear seats. However, it's still a good 12.0 cubic-ft.
The Sport Hybrid is set apart from the front drive RLX by a dark chrome finish to the grille, and new LED fog lights and turn signals. Acura's jewel-eye headlights come standard on both.
There are also hybrid badges on the front fenders, as well as unique 19-inch wheels.
Inside, there are some unique materials on the dash including exclusive chestnut finish wood grain trim.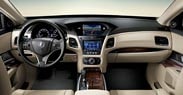 The center console has also been redesigned to accommodate new push-button controls for the transmission. Or, one can use the steering wheel mounted paddles for manual-mode shift.
There's also a new multi-color Head Up Display with 5 different information screens to choose from.
Like the regular RLX, front seats look inviting. With standard leather trim in the Sport Hybrid, they are also ultra-comfortable and supportive, and can be both heated and cooled.
Rear seats are equally comfortable and there is plenty of leg room for stretching out. Rear sunshades also come with Advance trim.
Center stack controls include Honda's now familiar twin screen interface. The top screen is for audio and standard navigation info, while inputs are made with a central controller mounted below. The lower touch screen takes inputs for the radio, and just beneath are a row of buttons for climate control.
The Energy Impact Score is very good too at 11.0-barrels of oil per year and emissions of 4.9-tons of CO2.
In both size and price the 2014 Acura RLX Sport Hybrid SH-AWD easily slides in between rival mid-and full-size luxury sport contenders and it should prove attractive to buyers considering either. The three-mode hybrid system is indeed complex in design. Yet, in operation, it is also virtually invisible. Now, that's the kind of technology we love, and it will make the RLX a lot more appealing to a lot more people.